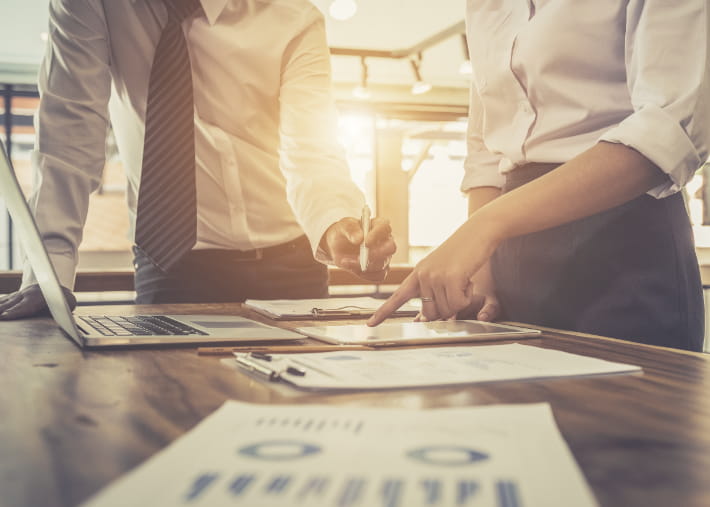 Corporate Valuation・Due Diligence
Company (Stock) Valuation・Asset Valuation
In presenting fairness of sales price and fulfilling disclosure responsibilities to investors, an independent third party performs corporate (stock) valuation during M&A and restructuring.
Additionally, situations where an objective and reasonable company (asset) value is needed, such as for public stock listing reviews and inheritance planning require corporate valuation.
In providing our corporate and asset valuation services, we make sure to gain a clear understanding of your company's transaction details and apply appropriate valuation methods in calculating fair value.
Financial Due Diligence
In order to execute M&A transactions, it is essential to accurately assess target company (seller) financials with thorough due diligence. Our financial due diligence process consists of understanding the target business, obtaining vital information, selecting the optimal review process, and delivering reports swiftly to company management. Even in cases of a small window for decision-making, we aim to serve your needs in producing timely reports.
Examples of Financial Due Diligence provided
Purpose
M&A (Merger, stock acquisition, underwriting for capital increase, stock swap, company split, transfer of business), Business restructuring, Refinancing, Fund-raising (solicitation of investors, etc.), Acquisition of real estate, etc.
Target Company
Semiconductor manufacturer, Property management business, Travel agency, Financial services business, Logistics business, Beauty and barber supply manufacturer, Fashion apparel and retail business, Golf courses, Manufacturer, Electrical construction business, Education and school support business, etc.
Flow of M&A
Pre-deal

M&A
Target selection
Negotiation with the target Company
Consideration of M&A methods
Preliminary examination of target company (identification of risks)
Consideration of accounting, taxation and legal matters
Deal execution

Finalize the basic agreement
Financial due diligence
Legal due diligence
Valuation (evaluation work)
Finalization of purchase price
Formalize the acquisition agreement
Addressing accounting and tax risks identified in financial DD
Post-deal

Closing
Integration
Accounting, tax, and legal support for integration
Examination and implementation support of business schemes
Our firm provides due diligence as well as many other services during the pre-deal, deal execution, and post-deal phases based on your needs.
*Legal due diligence and other legal-related services will be provided by our legal experts.